Pregnancy can be a difficult time for your body, as well as your skin. As you prepare to bring a new life into the world, your skin may become unmanageable or change entirely. Therefore, it is important to develop a pregnancy skincare routine, to ensure that your skin is functioning well. In this article, we will be exploring how pregnancy affects the skin and also recommending some amazing products to use during this time.
What causes pregnancy glow?
Pregnancy glow is one of the most common skin changes to occur when you are expecting. It refers to a brighter and more shiny skin tone that one only usually experiences whilst pregnant. Pregnancy glow is mainly caused by having a greater volume of blood within the vessels, allowing the skin to appear more flushed. Moreover, during your pregnancy, your hormone levels will begin to rise, allowing more oil to be secreted on to the skin. In turn, this will create a shiny surface to the skin and further add to your pregnancy glow.
How can improve my skin tone during pregnancy?
Pregnancy can also cause your skin tone to become unbalanced and allow your complexion to be inflamed. However, by adding a few simple lifestyle changes into your daily routine, you will be easily able to restore your natural complexion.
For example, try eating more foods that are rich in folic acids, such as broccoli, peas and chickpeas. Folic acid is a key element in the development of healthy skin cells and also helps to stimulate collagen production within the skin. Therefore, these foods can help your skin appear tighter, firmer and more youthful.
Moreover, it is important that you wear sunscreen to avoid harmful sun damage. By incorporating a broad-spectrum sunscreen into your daily skincare routine, your skin will be better able to absorb UV rays and neutralise free radicals. Thus, sunscreen can help to prevent the formation of dark spots and the signs of premature aging.
Adding on to this, Vitamin C supplements are a convenient way to boost your immune system, as well as creating better-looking skin. Vitamin C also helps to neutralise harmful free radicals, which helps to minimise hyperpigmentation and create a blemish-free complexion.
Is it safe to use skincare while pregnant?
It is advised that you create a unique skincare routine whilst pregnant, as your skin can change dramatically during this time. For example, many pregnant women suffer from harsh acne breakouts, so develop a new routine in order to treat it.
Furthermore, many beauty clinics offer pregnancy-safe facials that can help revitalise your skin. These facials will help to lift away any excess dead skin, oil or hair that has become clogged in enlarged pores. As a result, you will receive an instant glow and a much clearer complexion. However, it is paramount that you check that the facial treatment is safe for use during pregnancy.
Many pregnant women praise the use of mineral makeup, as a way to help cover slight blemishes during their pregnancy. Mineral makeup can help to add essential nutrients back into the skin, helping to restore its biological function. Therefore, these types of cosmetics can help to nourish the skin, as well as create a flawless complexion.
What skincare products can I use while pregnant?
At Dermoi! we offer a wide range of skincare products that are safe for use while pregnant. Listed below are just two of our favourite products, both of which are available for purchase on the Dermoi! online store:
Firstly, the 'Blemish Control Bar' from PCA Skin helps to clear congested pores and fight back against acne-causing bacteria. Containing 2% salicylic acid, this product helps to treat existing breakouts, as well as prevent future breakouts from occurring. As a result, you will notice clearer looking skin after just a few uses. The 'Blemish Control Bar' is now available for just £40.95.
Next, the 'Glow Time Full Coverage Mineral BB Cream' from Jane Iredale Mineral Makeup, offers full coverage with added SPF. This BB Cream uses titanium dioxide and Vitamin E to help absorb harmful UV rays and protect the skin against harmful free radicals. Thus, this product helps to nourish the skin, as well as provide a flawless complexion. The 'Glow Time Full Coverage Mineral BB Cream' is now selling for just £28.75.
What can I use instead of retinol during pregnancy?
Many women are advised against using retinol during their pregnancy, as it is said to cause harmful birth defects. However, bakuchiol offers the same incredible benefits but is safe to use during your pregnancy. Bakuchiol is a natural alternative to retinol that is much kinder on the skin. In fact, the gentle nature of this product means that it can be used as part of both your morning and evening skincare routine.
The 'Bakuchiol Reface Pads' from Indeed Labs are packed with bakuchiol to help add essential antioxidants and hydration back into the skin. This product helps to stimulate new skin cells without any irritation or peeling. Therefore, this product can help create a more youthful complexion without causing any unnecessary harm to your skin. You can purchase the 'Bakuchiol Reface Pads' for just £18.99 on the Dermoi! online store.
Which face moisturiser is best during pregnancy?
Facial moisturisers help to add essential hydration to the skin and prevent the formation of deep wrinkles. During your pregnancy, we recommend using the 'Hydraluron Moisture Jelly' from Indeed Labs. This lightweight moisturiser uses hyaluronic acid to increase the firmness and elasticity of the skin. As a result, your skin will appear tighter and more youthful with consistent use. The 'Hydraluron Moisture Jelly' is available on the Dermoi! online store for just £21.95.
Can I use Vitamin C serums while pregnant?
Vitamin C serums are completely safe for use during pregnancy and can have incredible benefits for the skin. As mentioned previously, Vitamin C is a powerful antioxidant that helps to neutralise harmful free radicals in the skin. So, by adding a Vitamin C serum into your daily skincare routine, you will be better able to minimise the appearance of dark spots and develop a brighter complexion overall.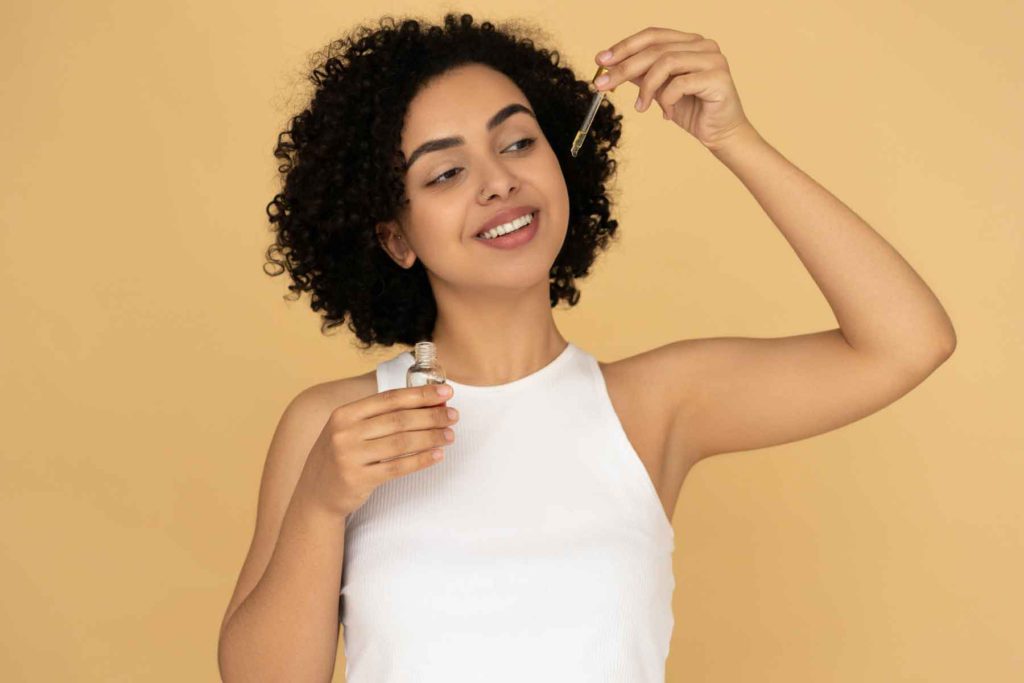 Is salicylic acid safe during pregnancy?
Salicylic acid is safe for use during pregnancy. However, many professionals recommend that you do not use more than 2% concentration. Adding on to this, it is advised that you do not take oral forms of salicylic acid, such as prescription aspirin, as it is said to cause birth defects in later pregnancies.
What skincare is not safe during pregnancy?
Even though a large majority of skincare is safe to use during your pregnancy, there are a few ingredients that you must avoid.
It is vital that you avoid all forms of Vitamin A derivatives, including oral acne medication. Studies have shown that high doses of Vitamin A can cause birth defects and other complications during pregnancy. Therefore, many medical professionals advise that you steer clear of those products.
Adding on to this, benzoyl peroxide is a key ingredient in many acne treatments. Although it is safe to use in very small amounts, many professionals say that it is not worth the risk. Thus, it may be better to take a more natural approach when it comes to treating acne.
Although there is a lot of concern and uncertainty around pregnancy and skincare, it should not stop you from nourishing your skin. If you are looking to reinvent your skincare routine during your pregnancy, try out some of the products recommended in this article, and help to maintain that glorious pregnancy glow.