The advent of male skincare has become increasingly popular in parts of Asia, with many Korean and Japanese men using a variety of products to help nourish their skin. However, in the West, skincare is still subjected to various forms of gendered marketing, allowing skincare to seem absurdly feminine. Male skincare is not just a subdivision of women's skincare, in fact, it is a complex and diverse section of a larger market that is just waiting to be discovered. In this article, we will discuss the differences between men's and women's skin, as well as offer some tips on how to build an incredible skincare routine for male skin.
Is women's skin different from men's?
Despite female skin and male skin fulfilling the same functions, there are some subtle differences between the sexes.
For example, women's skin tends to be softer, due to a majority of their diet being converted into fat, which is then stored in the face, hip and buttocks. Thus, this layer of fat helps female skin to have a plumper surface. Also, women tend to have much more sensitive skin than their male counterparts. This is because as women age, their epidermis begins to thin, making their skin more reactive to a variety of irritants. Finally, women tend to secrete more oil from their sebaceous glands due to a variety of hormones within their endocrine systems.
In contrast, men tend to have larger pores that secrete less oil. Thus, male skin may suffer from excessive dryness or roughness. Moreover, men have a higher collagen density than women. Therefore, research suggests that men age at a much slower rate than women.
Why do men need skincare?
Just like female skin, male skin is a very complex organ that should be protected and nourished. That is why it is so important for men to build an effective skincare routine, as it helps to maintain healthy skin and prevent future blemishes or breakouts.
Moreover, by adding SPF into your skincare routine, you will be better able to fight off the signs of premature aging that are brought on by excessive sun exposure. Thus, with consistent use, sunscreen can help reduce fine lines and wrinkles, as well as fade hyperpigmentation, such as dark spots.
Adding on to this, having a glowing complexion and blemish-free skin can help to boost your self-confidence. This will help you feel better about your appearance, and help reduce feelings of low mood and anxiety, which are so common in men.
How to have clear skin for men?
Developing clear skin takes consistent time and effort, but once the results begin to show, your skin will be better able to maintain its flawless complexion.
It is important that you exfoliate your skin at least once a week. This process will help to remove excess dead skin, hair and oil from enlarged pores, which in turn, prevents harsh breakouts from forming. Exfoliation can be carried out through a skincare product, chemical peel or just regular shaving of the facial area.
Moreover, in order to achieve clearer skin, it is vital that you cleanse your face twice a day. Start your day by washing your face with a gentle cleanser and repeat the same process before you go to bed. This will help to clear out your pores of any debris that has built up throughout the day and help to prevent blemishes from forming.
Also, it is essential that you keep your skin hydrated, in order to prevent the formation of deep wrinkles. Apply a high-quality moisturiser twice a day, and help your skin appear softer, firmer and more elastic.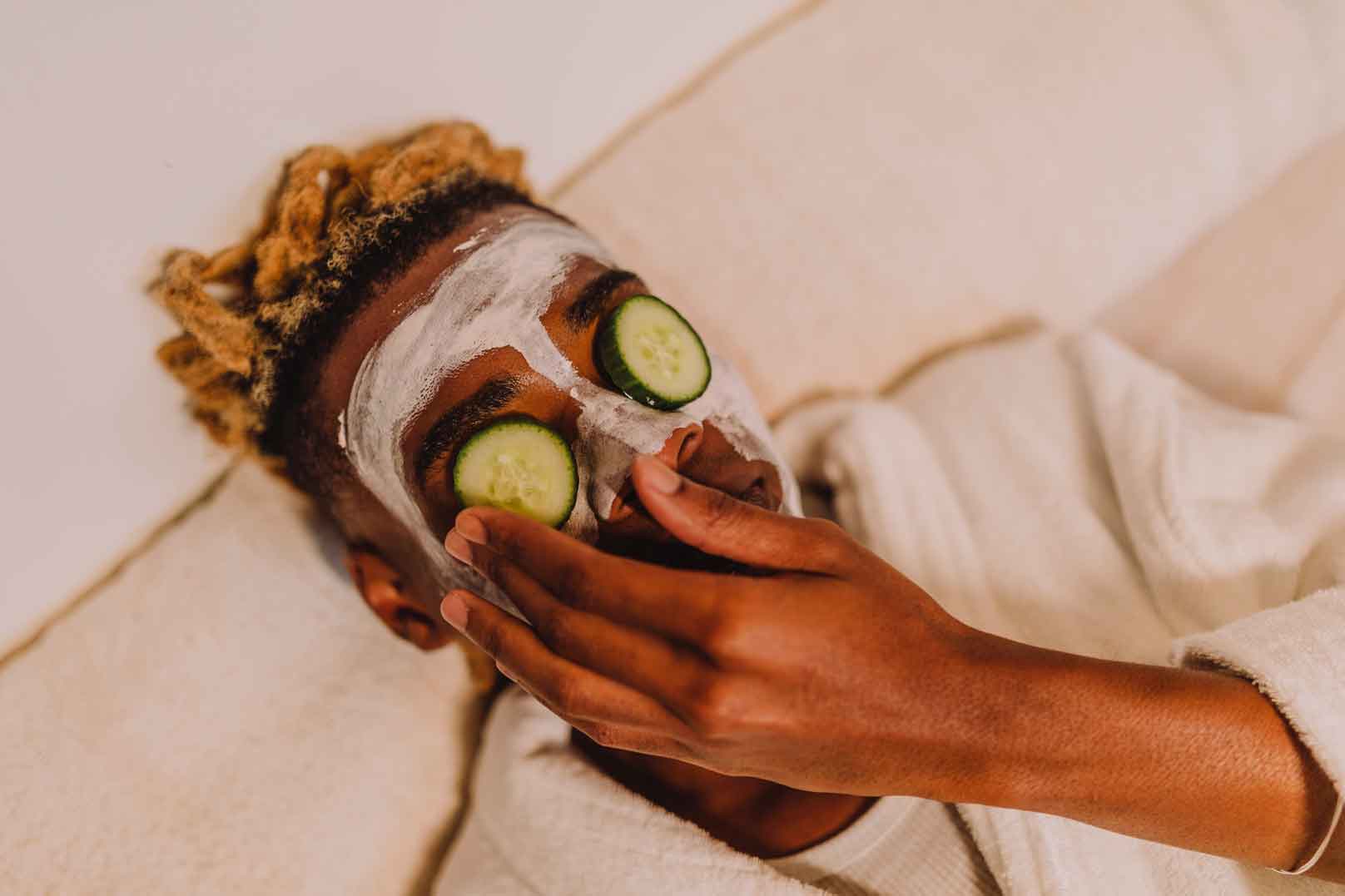 Men's skincare trends and habits
The world of male skincare is a bustling hub of up-and-coming trends, that can help any man feel more confident in their own skin.
For example, a growing number of men are starting to use makeup to help conceal any subtle blemishes. Of course, the link between men and makeup has often been discouraged, but simple cosmetics can help create a glowing complexion and brighter skin tones, without the need for clinical treatments.
Plus, more and more men are becoming environmentally conscious, which has developed a need for cruelty-free and environmentally friendly male skincare products. These products can come in the form of vegan products or even just products that are placed in sustainable packaging. Therefore, if you are looking to pursue a more environmentally conscious lifestyle, there are a variety of brands that allow this to be achieved within the skincare market.
Finally, there is a developing number of men who are using haircare and grooming to boost their overall look. Since the Coronavirus pandemic has led to the closure of many barbershops, a lot of men have been cutting and styling their own hair, giving them the freedom to express themselves through a new look.
What skincare products should men use?
At Dermoi! we offer an amazing selection of productions, specifically designed to treat male skin. Listed below are just three of our favourite products, all of which are available on the Dermoi! online store:
Firstly, the 'Aquafoam Gentle Cleansing Wash' from Endocare, which is currently available for just £16.95. This facial wash contains the breakthrough SCA BioRepair Technology, which is clinically proven to stimulate increased collagen production within the skin. As a result, the 'Aquafoam Gentle Cleansing Wash' allows for a tighter, firmer and more elastic skin surface.
Moreover, the 'Polish Cranberry Enzyme Mask' from Osmosis Skincare, uses natural acids, enzymes and added witch hazel to gentle exfoliate the skin. This helps to clear out enlarged pores, giving you a brighter and blemish-free complexion. The 'Polish Cranberry Enzyme Mask' is now selling for £65.95.
Lastly, the 'HydraLuxe' from PCA Skin, is a deeply effective anti-aging moisturiser. This product uses a premium blend of peony extract and chicory leaf extract to help maintain the skin's volume as well as giving the skin added strength and structure. Adding on to this, the use of snow algae helps to boost hydration, giving you softer and plumper skin overall. The 'Hyrdaluxe' is now available for just £99.95.
Is there a difference between men's and women's skincare?
Many brands preach stark contrasts between men's and women's skincare products and display a variety of ingredients dedicated to each gender. In fact, there is no real reason for gendered skincare, as a majority of products are based on skin type, not sex. Thus, do not fall for specific gendered marketing, in fact, try to discover your skin type and build a routine around that information.
How to start a good skincare routine?
In order to build an effective skincare routine, it is vital that you give each product enough time to work on the skin. Therefore, it is advised that you wait at least three months before making any changes to your skincare routine. Thus, after this period of time, each product will have had enough time to present its promised results onto the skin.
Moreover, it is vital that you add products into your routine gradually. This will allow your skin to slowly become familiar with each product and maintain the beneficial results.
Finally, if you have particularly sensitive skin, avoid products that contain artificial dyes or fragrances. This is because they contain irritants that can seriously inflame your skin. Thus, it is best to use natural and gentle skincare products to avoid unnecessary harm and irritation.
Men's skincare for dry and oily skin
If you suffer from excessive dryness or oiliness, it can be hard to find skincare products that help to restore the skin back to a healthier state. Therefore, we recommend using the 'Facial Wash Oily/Problem' from PCA Skin, which contains allantoin and aloe vera. These ingredients help to better soothe the skin, and restore a normal pH balance, leaving you with a clearer complexion overall. The 'Facial Wash Oily/Problem' is now available for just £32.00.
Male skincare trends will continue to grow and will probably become more prominent in the West, as we continue to see the complexities of male skin. If you are looking to diversify your existing skincare routine, or build a new one entirely, why not try some of the products recommended products discussed in this article and help develop an irresistible complexion?