Ageing is a natural part of human life, and as we grow older, we begin to notice these effects on our skin. Our skin may present fine lines, wrinkles and even dark spots as our skin begin to lose its elasticity and strength. If ageing gracefully is just not your style, you may have considered Botox as a way to freeze ageing skin and maintain your youthful complexion. However, in recent years, Botox injections have been discouraged due to their negative effects on the skin. In this article, we will offer some Botox alternatives that still offer younger looking skin without the use of needles and potential damage.
Is Botox bad for your health?
Botox has been verified to treat excessive sweating, migraines and ageing skin for decades. Yet, there are still many professionals who have proven that Botox can have derogatory effects on the skin and wider health of your body. For example, frequent use of Botox injections can make the muscles in your face weaker and flatter. As a result, you may notice your skin beginning to sag or become thinner, if you Botox regularly in certain areas of your face.
Moreover, studies have shown that Botox can have negative neurological effects, especially in regard to our hands. Thus, this shows that the paralysing nature of Botox can affect our coordination, as well as our skin.
If Botox is applied incorrectly or in an unsafe manner, you may suffer a stroke or even blindness. Therefore, if you do decide to undergo Botox treatment, it is vital that you visit a trained professional to avoid any serious damage.
What is the best alternative to Botox?
Since Botox has developed a bad reputation amongst larger clinical professionals, many beauty brands have developed alternatives to these injections. For example, retinol is now regarded as one of the best anti-aging treatments, due to its ability to stimulate increased cell production, as well as collagen. Due to this, retinol can help to create plumper and younger-looking skin without any need for intense clinical treatment.
Adding on to this, acupuncture is now becoming increasingly popular in the west, especially for is supposed anti-ageing abilities. This ancient form of Chinese medicine involves inserting slim needles in various parts of the body, in order to trigger a healing response from the central nervous system. Although there is some debate about whether this treatment actually works, acupuncture is a completely natural and safe alternative to Botox.
Finally, chemical peels can offer an incredible exfoliation process that can also help to stimulate healthy cell turnover. By using a collection of acids, chemical peels are able to remove superficial layers of dead skin, allowing a more glowing complexion to shine through. Dermoi! offers a wide selection of at-home facial treatments, which are able to treat a variety of skin conditions, on their website.
What is Fillerina 932 and how does it work?
Fillerina 932 is a Dermo-Cosmetic Filler treatment that can be used in the comfort of your own home. This first-class product offers two amazing treatments in one topical application.
The first treatment is called the 'Filling Treatment'. This treatment uses 9 different types of hyaluronic acid to help penetrate deep within the skin and plump the tissue in the layers of the dermis and epidermis. As a result, this high concentration of hyaluronic acid helps to reduce the appearance of fine lines and stubborn wrinkles, giving you a smoother skin surface. Adding on to this, due to the deep penetration of hyaluronic acid, certain facial features, such as the cheekbones and lips will appear to have more volume.
The second treatment is known as the 'Biorevitalising Treatment'. This breakthrough technology also helps to penetrate into the epidermis to encourage healthy skin cell regeneration. This technology offers an array of amazing benefits for the skin such as an even complexion, firmness and uniform skin tones. In turn, your skin will gradually become more flawless and attractive.
The Fillerina 932 is available in three grades of strength, known as 'Grade 3-Bio', 'Grade 4-Bio' and 'Grade 5-Bio'. Grade 3-Bio helps to reduce subtle fine lines and wrinkles, offering a gentler approach to ageing skin. Adding on to this, Grade 4-Bio offers a slightly stronger concentration, helping to minimise the appearance of deep wrinkles and developing expression lines around the eyes and mouth. Finally, the highest strength, Grade 5-Bio, is used to treat very deep wrinkles with a very powerful concentration.
The Fillerina 932 is now available on the Dermoi! website at the starting price of just £94.95.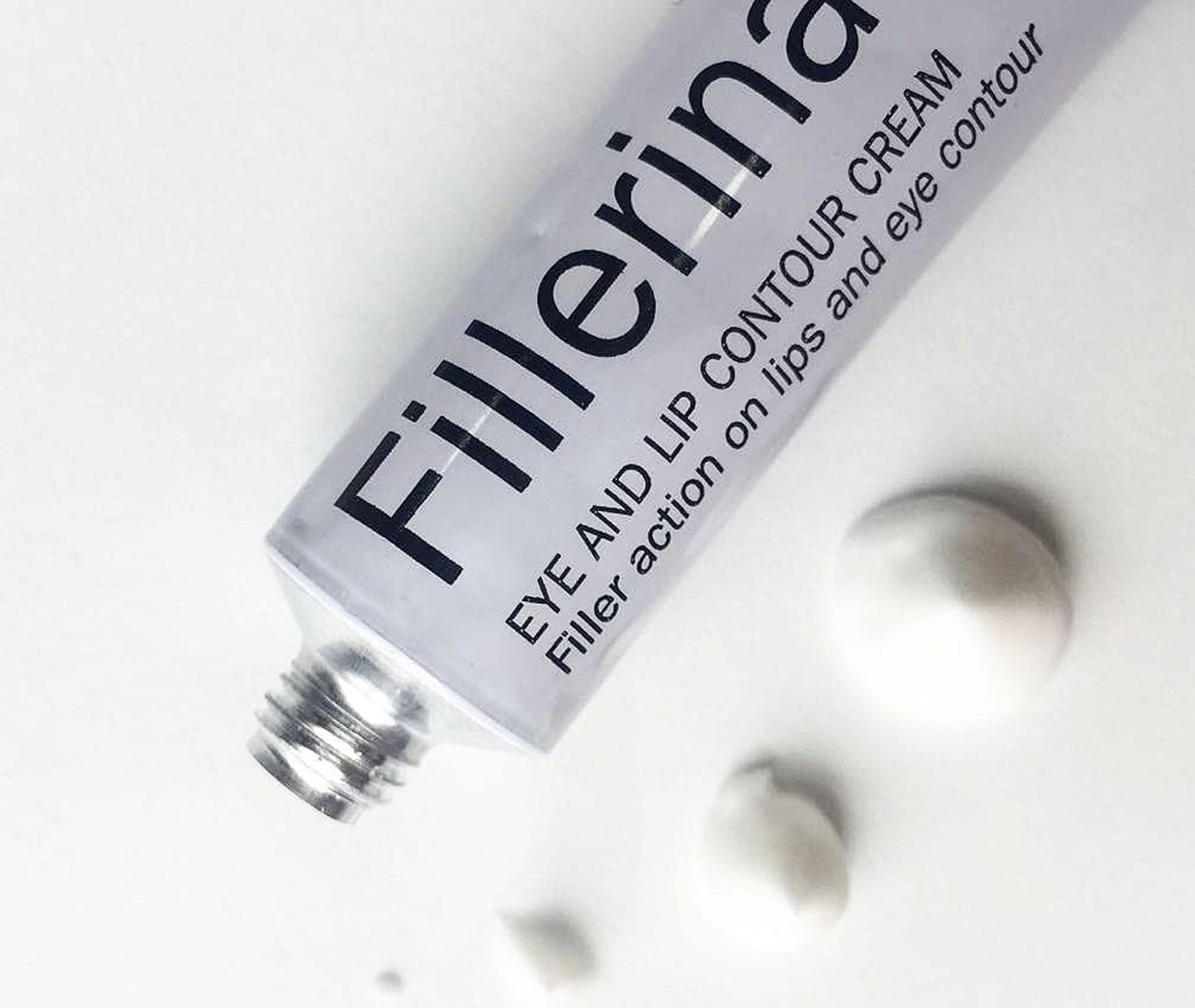 How to use Fillerina 932?
Using Fillerina 932 is a very simple procedure and offers a quick and easy alternative to Botox injections. It must be mentioned that both the Filling Treatment and the Biorevitalising Treatment must be used for 14 days.
It is advised that you use the 'Pre-Fillerina: Cleanser and Cleansing Brush' before applying Fillerina 932, in order to achieve deep cleansing of the skin and remove any harmful and necessary toxins. This allows the treatment to better penetrate the deeper layers of the skin.
Then you must apply 2ml of the Fillerina 932 product on to your face and let it sit on your face for 10 minutes. This will give the ingredients adequate time to penetrate the skin and form beneficial results.
Next, apply the rest of the product on to the entire surface of the face and wait another 10 minutes. During this time, the revitalising ingredients will be able to penetrate into the epidermis and produce younger-looking skin.
Finally, end the treatment by applying the 'Fillerina Biorevitalsing Nourishing Film'.
What are the key benefits of needle-free Botox?
The advent of needle-free Botox has allowed many anti-ageing treatments to blossom and offer the same effective results in a safer environment. Not to mention, needle-free treatments are often more hygienic, allowing a cleaner and more sanitary treatment. Adding on to this, needle-free alternatives to Botox offer a less painful experience, which is perfect for those who desire an anti-ageing treatment without the use of intimidating needles.
Is there a cream that works like Botox?
The 'Snoxin II' from Indeed Labs offers the benefits of Botox injections in a simple serum. This product uses 3 unique peptides to stop wrinkles from forming, as well as smooth out the overall texture of the skin. As a result, you will gain smoother, plumper and more youthful-looking skin in just two hours. The award-wining 'Snoxin II' is now available for just £28.99 on the Dermoi! online store.
Can you reverse wrinkles without Botox?
Wrinkles are a common sign of aging skin, and usually cannot be removed through cosmetic procedures. However, with a few simple lifestyle changes, you will be better able to prevent wrinkles from forming, as well as reduce the signs. For example, it is advised that you wear sunscreen every day to prevent sun damage. Therefore, the sunscreen will be better able to absorb harmful UV rays and deter the formation of wrinkles and dark spots. Also, in order to create a plumper and more hydrated skin, it is vital that you keep yourself hydrated. Thus, try to drink around 8-10 glasses of water a day, to avoid developing dry skin.
If the fear of aging skin is beginning to harm your self-confidence, do not feel ashamed. Aging is a sign that you are living a long life, something many people do not get the luxury of experiencing. Botox can often cause additional harm to the skin and can even leave you with adverse side effects. Therefore, why not try the Fillerina 932 and finally develop flawless looking skin?