We all wonder how celebrities can regularly achieve a dewy glow on the red carpet. It has recently become clear that facial peels and other treatments might just be the key behind many celebrities' radiant glow. As such, here are the different sorts of facial peels available on the market, and favourite celebrity chemical peels.
Types of Facial Peels
As mentioned above, there are different sorts of facial peels available for consumers:
1. Deep peels:
TCA Peel: A TCA Peel (trichloroacetic acid) is a peel that dries up the surface layer of the skin. This allows it to peel off to reveal newer, healthier skin. This peeling effect takes up to a couple of days or a few weeks. Furthermore, TCA Peels are ideal for those who are suffering from melasma, hyperpigmentation, and/or acne scarring. Deep peels penetrate into deeper layers of the skin to treat sunspots and wrinkles, for example.
2. Medium Peels:
Glycolic Acid Peel: Glycolic acid is an AHA (alpha-hydroxy acid). Unlike BHAs (beta-hydroxy acid) these are ideal for drier skin types. This is because BHAs are oil-soluble. Glycolic acid peels are perfect for those looking to even out skin tone, repair skin texture and brighten pigmentation. Medium peels because go through to the middle layers of the skin to treat the characteristic signs of aging or even freckles.
3. Superficial Peels:
BHA Acid Peel: Beta-hydroxy acids include salicylic acid and are ideal for oily and sensitive skin types. This is due to their anti-inflammatory qualities. Salicylic acid has the ability to minimise oil production and clean clogged pores. As well as this, it also encourages cell renewal to reveal new skin, thus making it perfect for acne-prone skin. Superficial peels only treats the surface layer of the skin. However, BHA Peels can also exist in higher concentrations and can be categorised as a medium peel too.
Celebrity Chemical Peels: What Does a Chemical Peel Do?
To put it simply, a chemical peel encourages rapid cell turnover. This essentially means outer layer of the skin is peeled to reveal healthier and clearer skin.
When having a chemical peel, your skin goes through a thorough, deep cleansing. This removes impurities accumulated throughout the day. As a result of this, your pore size reduces due to the removal of sebum and dirt.
Please be aware that chemical peels are conducted by trained and licensed professionals who have experience in performing peels on clients. Performing pharma-grade chemical peels on yourself at home is incredibly dangerous and may result in burning and skin irritation.
How Often Should You Have a Facial Peel?
This varies depending on the type of peel. However, generally, professionals recommend that you should undergo a facial treatment every 3-4 weeks. This time period allows your skin to complete a full lifecycle and prepare itself for its next rejuvenation treatment. Therefore, by waiting an adequate amount of time for your next facial, the beneficial results are likely to be more effective.
Facial treatment results also only last for around 1 month. That's why its best to carry out regular upkeep in order to achieve the best results. If you suffer from acne, there are peels you can have every two weeks in order to clear your acne.
Will a Chemical Peel Get Rid of Redness?
A common question concerning chemical peels is if they can alleviate redness. The aftermath of a chemical peel usually entails redness of the face due to the high acid concentration of the peel. This makes it a question of whether people suffering from rosacea or who are extremely sensitive should partake in chemical peels.
Rosacea sufferers or high sensitivity skin types are still able to have chemical peels, however, they must be of a lower concentration. For instance, glycolic peels at 20-40% concentration are acceptable for rosacea sufferers, and can also treat redness.
In other cases, aestheticians will combine a variety of treatments in order to avoid aggravating rosacea. This may include mixing peels with low-strength laser treatments. So, in short, if you suffer from rosacea or have extremely sensitive skin you needn't worry, as peels are adjustable depending on your skin type and condition.
What Is the Most Effective Chemical Peel?
The most effective, and long-lasting chemical peel is the glycolic acid peel. These peels have little downtime, in fact, they're often referred to as a "lunchtime peel" because of this. Glycolic peels have many benefits, including:
Softening the appearance of fine lines and wrinkles
Balancing and evening out the skin tone
Increasing the skin's natural glow
Reducing hyperpigmentation.
Chemical Peel Alternatives
In addition to chemical peels, there are a range of products you can try that deliver similar results, however without the downtime, and over a longer period of time. For example, the PCA Skin Revitalising Mask uses papaya enzymes to exfoliate and brighten a dull complexion. The enzymes dissolve dead skin cells and inactive proteins. Furthermore, this mask contributes to reducing the appearance of acne scars and dark spots, just as a chemical peel would.
Another effective chemical peel alternative is the Osmosis Polish Cranberry Enzyme Mask. This skincare product gently removes dead skin cells from the epidermis to promote radiant and healthy skin. As well as this, the included antioxidant coenzyme Q10 encourages cell regeneration and repair. What's more, it protects the skin from free radical damage. As a result, your complexion is left smoother and brighter.
Do Celebrities Have Chemical Peels?
Yes, in fact, chemical peels are one of the most popular facial treatments amongst celebrities. Friends star, Jennifer Anniston revealed on Conan O'Brien's talk show how her obsession with peels is what keeps her skin looking youthful.
Celebrities Who Use Facial Peels Before Red Carpet Events
Top aestheticians regularly perform facial peels for celebrities before red carpet events. For instance, celebrities including Amanda Seyfried and Emmy Rossum get signature peels which involve a low concentration chemical peel. This gives celebrity clients a deep clean, as well as a radiant glow that's perfect for the red carpet.
But what other favourites amongst celebrity chemical peels? Well, celebrities such as Eva Mendes and Halle Berry opt for a medium peel filled with chemical exfoliating ingredients such as malic acid and lactic acid. This lifts off the dead skin from the surface level. Furthermore, it brightens skin pigmentation and helps prevent acne development, as well as rejuvenating dull complexions.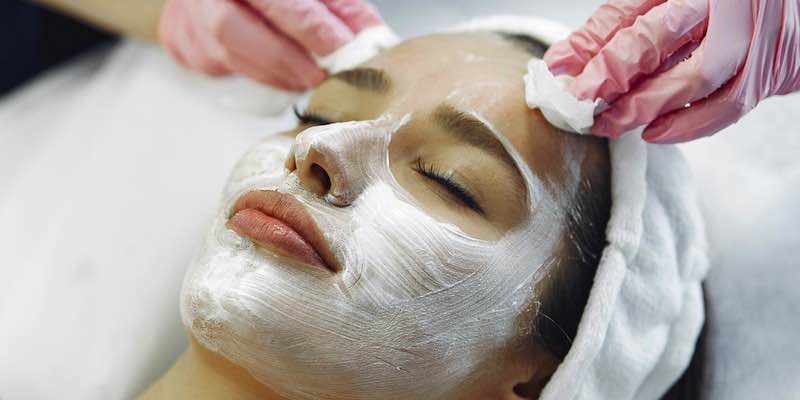 How Many Chemical Peels Do You Need to See Results?
Although regular chemical peels can help to preserve youthfulness, it is estimated that you should have around 4-6 light peels in order to see results. This is especially true in the case of sufferers of severe acne. Keeping up with your chemical peels will help you see drastic results after. Furthermore, peels can even help manage and mitigate the development of acne.
Hopefully, with this information regarding favourite celebrity chemical peels, you can decide which peel is best for your skin type, and achieve that red-carpet glow!
Author: Charlene M Teressa, Sam Pennington & Georgie Falcone